WE CREATE VILLAS THAT YOU WANT TO RETURN TO
Bali is now one of the safest and most profitable places to invest in the world. In 2021, investors invested in Indonesia's tourism sector 15% more than a year earlier. The demand for real estate in Bali continues to grow and is already breaking all records.
Previously, many people invested in real estate in Europe, but due to the political and economic situation in the world, everything has changed. Now, when many investment schemes are not working, Bali has become the safest and most reliable place to save money. Alex Villas has been developing and building in Bali for 7 years and is looking for partners on DF platform!
Alex Villas is a group of companies:
AV MANAGEMENT
AV CONSTRUCTION
AV AGENCY

rents villas, creates a service

for guests and pays dividends to investors

builds aesthetic villas

with a soul and cold calculation

is engaged in land search,

marketing of objects and their sale

Management Company:


7 years of research into markets and regions
7 years of serving our visitors
7 years of managing Bali villas
Our AIRBNB account has 2,800+ reviews from guests with an average rating of 4.5+

Construction company:


3 experienced project managers
4 architects and designers
We have all the necessary licenses
Comply with deadlines, conduct tenders

Real estate agency:


Assembling your project
Selling your property assistance
Land search assistance for turnkey transactions
Marketing assistance
Our goals:
Construction company: Become the TOP 1 construction company in Indonesia.
Real estate agency: TOP 1 in terms of sales in Bali
Management Company: 1000 pitchforks in management
More information about us!
YouTube | Instagram | Website | Catalog
A team of 150+ people works daily to keep the company at the forefront of the market.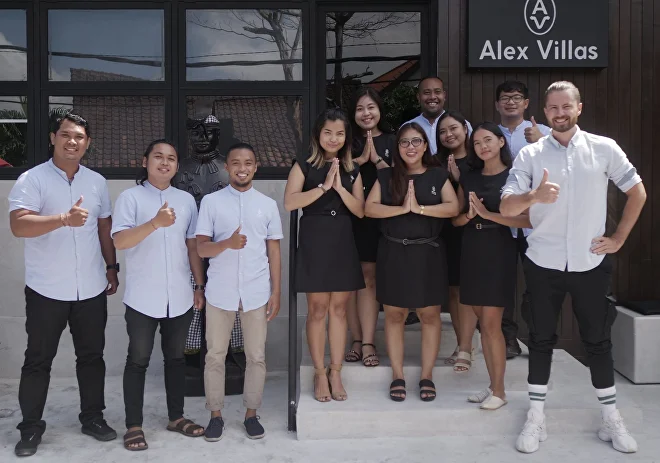 | | | |
| --- | --- | --- |
| | | |
| | | Nikolai Nechunaev |
| Alex Villas Founder | Co-founder of AV Agency | Director of AV Agency |
Why invest in Bali with Alex Villas?
Over the past 10 years, the island's attendance has grown by an average of 12% per year. If we compare the flow of tourists in 2008 and in 2018, we see that during this time the flow of tourists has grown by 272%. Seasonality in Bali can be traced all year round. For us, this means that the cash flow is 24/7/365.
We focus on increasing indicators such as:
Occupancy - hotel occupancy

Average daily room rate - average price per booking

Double Occupancy - average number of guests per room

RevPAC - hotel revenue per guest

Average Length of stay - the average duration of a booking
By working on them, the revenue of the complex can be increased by 40% of the planned one.
How are we going to use the raised investments?
We will direct all attracted investments to the construction and development of the company in order to generate profit for our investors. At the moment, we have all the necessary conditions to achieve our goal of becoming number 1 in the real estate market in Bali: a strong team, an up-to-date product that is in constant demand and transparency in interaction with investors.
What can we offer our investors?
We want to build strong partnerships with our DF community. We attract finance for the construction and development of villas and can offer our investors 15-20% per annum. We make the business completely transparent, automated and digitized: we will have all the analytics and reporting, a customized CRM system, regulations and an experienced team - the market value of such an asset is very high.
Bali is a growing real estate market
To summarize, now Bali is one of the safest places in the world to save capital:
low volatility of the local currency;

investments in real estate bring high returns in dollars;

a developing place where world-class projects are being built;

tourist flow, which shows a high demand for quality housing rentals;

limited area for development, which makes the cost of objects more expensive every year;

a country that has not been involved in political and economic conflicts throughout history.
This is an ideal place for living and recreation both in terms of climate and in terms of local legislation. The main thing when choosing real estate for investment, remember three important factors: location, property format and management system after commissioning.
Alex Villas is ready to discuss the terms of cooperation with our DF community in order to find the best cooperation option and increase the wealth of our partners. Let`s create together!